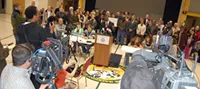 Photo: Nick Lucchesi
Brown said adios in a speech yesterday afternoon
Somebody help me out here - is there an editors' note re:
erstwhile
St. Louis Post-Dispatch
columnist
Sylvester Brown
in the paper today, or online?
I have put in a request to chat with Editor
Arnie Robbins
and am waiting to hear back. In the meantime, I found a "note to readers" from Robbins and Managing Editor
Pam Maples
which was sent to and posted on
a media blog
.
You can read the note to readers after the jump.
To our readers

Sylvester Brown Jr. is no longer writing a column for the Post-Dispatch.

Brown accepted the offer of a free trip to Washington D.C. from supporters of a group that he had written about in a column the day before. The column, "Metro East leaders head to D.C. to tout E-Macrosystem," ran on March 26. Brown also had not notified his editors of his trip or the offer. Our integrity and our credibility with readers is of utmost importance to us. Our ethics policy clearly states the parameters regarding conflict of interest, and what our journalists can and cannot do.

Brown declined an opportunity to write a farewell column.

Arnie Robbins, Editor

Pam Maples, Managing Editor