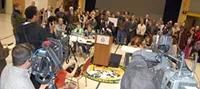 Photo: Nick Lucchesi
Brown had a message for management yesterday: "Be careful."
St. Louis Post-Dispatch
Editor
Arnie Robbins
told me this morning that ex-columnist
Sylvester Brown
was
shown the door over "one issue only: a violation of our ethics policy."
Brown,
who was one of few African Americans in the newsroom
, yesterday made overtures
that his March 26 D.C. trip was being used a scapegoat
because of complaints he's been making about racially unfair policies at the paper.
So, what is the
P-D
's ethics policy?
I got a copy, but it's long, so I'll excerpt what appear to be the relevant sections.
First,
the introduction
states, "We realize that even the appearance of a conflict of interest can erode the vital, fragile bond of trust between the Post-Dispatch and the public....When you're faced with a question or see a possible problem, discuss it with a supervisor and draw on others in the newsroom to get a clear and full perspective. It's better to err on the side of raising an issue for discussion than letting a problem slip by. By putting our heads together, we usually can figure out how to do the right thing."
On the subject of
"Financial Matters and Outside Employment,"
the policy reads: "All newsroom staff must exercise care in the way they deal with businesses and other institutions. Don't use your professional connections to get discounts or preferential treatment or other personal advantages, and don't mention the Post-Dispatch in any way when you have a personal complaint or dispute with a merchant.
"To maintain independence, don't work for or accept honoraria from organizations you cover. Other outside work or payments may also pose problems, particularly from organizations your own department covers. If a potential conflict arises, discuss it with your supervisor. "
As for
"Food and Gifts,"
"Journalists must act independently in covering the news. To avoid conflicts of interest, real or perceived, newsroom staff should make it a practice to decline meals, gifts or other favors from anyone with whom they deal as journalists."
And, finally, on the subject of
"Travel,"
the ethics policy states: "In no instance may news and editorial staffers use their newspaper connections to solicit or accept free travel, junkets or discounted rates for personal use."
In our telephone conversation this morning, Robbins, the
P-D
editor, also referenced
an allegation
raised by Brown and his supporters:
that Mayor Francis Slay was pushing the Post's buttons
and urged Brown's ousting. Says Robbins: "The mayor had nothing to do with this. Nothing."
Brown has started
a blog
, where he's posted a very lengthy description of events as he saw them unfold. The blog also reprints the text of the speech he gave yesterday and which includes
a message for P-D management
:
I suspect that this press conference will send management scurrying to bolster their weak allegations. Be careful Post-Dispatch. My attorneys and the Guild are well aware of your stated reasons for my termination and of our tenuous relationship these past few years. As far as I'm concerned, in your gleeful attempt to rid yourselves of a payroll expense and a confrontational columnist, you've already defamed enough good people.

Be careful.

On a more technical note: The terms of Brown's departure are still unclear to me. He was definitely on paid administrative leave for at least a week, if not two.
But was he fired? Or did he quit?
Brown tells me he quit. Robbins says Brown was "dismissed."