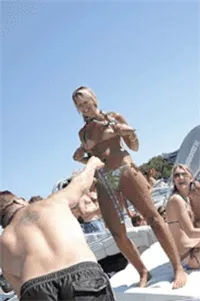 Photo by Jennifer Silverberg
Boobs for beads. Just another "family-friendly" activity at Party Cove.
Last week,
Daily RFT
received a curious
press release
from the
Lake of the Ozarks' Convention and Vistors Bureau.

The notice -- encouraging travelers to visit the lake's Ha Ha Tonka and Lake of the Ozarks state parks -- seemed innocuous on its surface. But then came the term
"family-friendly."
As in the statement reading...
"[Both] state parks are like two
family-friendly vacation destinations
within an exciting,
not-to-be-missed family vacation destination
!"
So what's the problem? Well, last time we checked one of those state parks plays host each summer weekend to
the raunchiest, flotilla of depravity this side of Sodom and Gomorrah
. That's right.
We're talking about the lake's infamous Party Cove, which takes place in Anderson Hollow Cove -- an inlet located within the borders of Lake of the Ozarks State Park.


Yesterday we called Pam Jones, one of the PR mavens who put out the press release to ask about the "family-friendly" atmosphere of Party Cove. "Oh, no!" says Jones. "The cove isn't inside the state park. Is it?"
It sure is, Pam. See for yourself.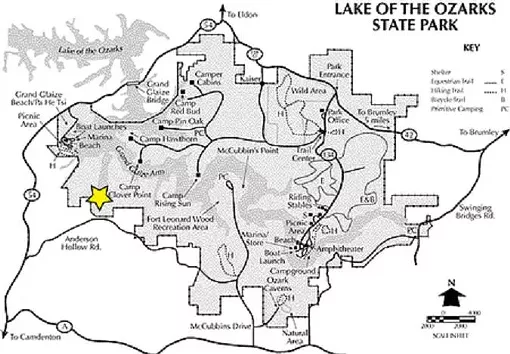 ozarks-lake.com
The yellow star marks the location of Party Cove inside the state park.
But, hey, what's more family-friendly than boats, booze and public nudity? After all, one could argue that there'd be a lot fewer families without those ingredients.