Columnist
Sylvester Brown
says his employer, the
St. Louis Post-Dispatch
, put him on paid administrative leave on Friday, March 27, and locked him out of the building over allegations that officials in
East St. Louis
paid for a trip he took to Washington, D.C.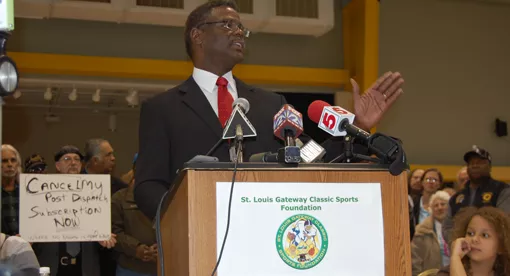 Photo: Nick Lucchesi
Asked about who he would like to see as his successor at the Post, Brown said, "I haven't gotten to that yet. I hope whoever he is, he has a strong spine."
Brown,
the metro columnist covering African-American issues
and one of very few black journalists working at the local daily, denies the allegation.
He says he and the paper have been in a stand-off for the last week over his employment terms. Today he announced he is quitting. He also asked his union, the
St. Louis Newspaper Guild,
not to try to arbitrate on his behalf.
Here's the story as Brown provided it:
On March 25 he prepared
a column
about fourteen
Metro East politicians
traveling to D.C. to discuss disbursement of federal stimulus funds and their idea to build a renewable-energy facility on the East St. Louis riverfront.
The column ran on March 26. That same day, Brown was in the nation's capital himself to meet with a few folks who figure in
a book proposal
he's putting together -- i.e., to take care of some personal, non-newspaper-related business. Those folks, from the Summit Council for World Peace,
are the same people who were participating in a conference with the East St. Louis leaders
. Brown says the Summit Council for World Peace had extended the invitation to him
and offered to pay
for his book-related trip.
Brown says the
Post
's Washington correspondent,
Bill Lambrecht
(a
book-writer
himself), spotted Brown in D.C. and placed a call back here to St. Louis to get the scoop on Brown's trip. It was news to Brown's boss
Alan Achkar
, who promptly called Brown to ask why he was there.
On Friday, March 27, Brown reported back to work at 900 North Tucker Boulevard. He and Achkar talked about the trip. Says Brown:
"He asked me, 'Did the East St. Louis people pay for it? Did Mayor Alvin Parks pay for it?' I said, 'No, I was pursuing my own goals, my own interests.'"
That afternoon managing editor
Pam Maples
placed Brown on paid administrative leave pending an investigation of his trip.
Brown held a press conference in the gymnasium at the St. Louis Gateway Sports Foundation, a few blocks west of the
Post-Dispatch
building on Martin Luther King Drive. He took no questions after a statement, in which he outlined basics of the dispute, read a quotation from Joseph Pulitzer, and thanked colleagues at the paper. A crowd of supporters gathered on the bleachers in front of the podium, but a few minutes before the conference began, were herded behind the ousted columnist for television cameras.
Brown says the newspaper last week offered to let him resign, take four weeks' severance and write a farewell column -- in exchange for his signature on
a gag order
that would prevent him from talking about his split from the daily.
Brown is rejecting the offer. "A payoff to be quiet? I find it insulting.
I've gone from being a columnist to a stereotype.
The whole thing is insulting."
Photo: Nick Lucchesi
Brown hugs a line of supporters after saying his piece.
Brown says he has been complaining of unfair, racially discriminatory policies at the paper for the past year and believes he is now being retaliated against for speaking out. "In my mind this has nothing to do with this made-up charge and more to do with our history, with what I've been complaining about, and with
Lee [Enterprises]
having to shed jobs
. Here they thought they had a convenient excuse to do that."
I'm going to try to get more details on the discrimination accusations Tuesday, as well as the
Post-Dispatch
's side of the story.
Brown has since
set up a blog about the situation
.