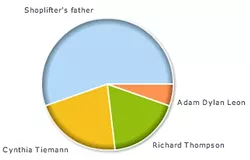 The
shoplifter's father
by a mile.
I had predicted a tight race. Boy was I wrong. More than half of voters (55 percent) thought the guy who
avenged his daughter's shoplifting bust by beating up the sales clerk who caught her
was
this week's biggest ass clown
.
Cynthia Tiemann
the mother who made fraudulent student loans in her daughters' names to fuel her gambling addiction came in second with 21 percent of the vote.
Richard Thompson
, owner of a website that has allegedly failed to pay a $1-million prize to pet shelter Stray Rescue garnered 18 percent of the vote.
Coming in dead last was
Adam Dylan Leon
who made national news this week for stealing a plane in Canada and flying it to Missouri. Readers apparently considered Leon's action (he supposedly wanted National Guard fighters to shoot him down) more pathetic than ass-clownish.
Thanks all who voted and stay tuned next week for a whole new cast of nominees.