Photo by Nicholas Phillips
Tulip bonanza!
As you read this, the crab apple and redbud trees in Forest Park are positively bursting over entire brigades of tulips and daffodils. But according to the park's horticultural foreman,
Alan Jankowski
, you've only got about two weeks left to enjoy them.
Click on the map markers below to view some lovely specimens in the park's northeast corner (then follow the arrow to see a few more).
WHERE STUFF IS BLOOMING
View
Forest Park Fauna
in a larger map
Too lazy/frightened to use a Google map? Here are some of the photos (garnished with a lil' bit of Chaucer to getcha in the mood):
When that April with his showers soote
[i.e., sweet]...
Photo by Nicholas Phillips
Crab apple tree at the Sigel Statue
...the drought of March hath perced to the roote...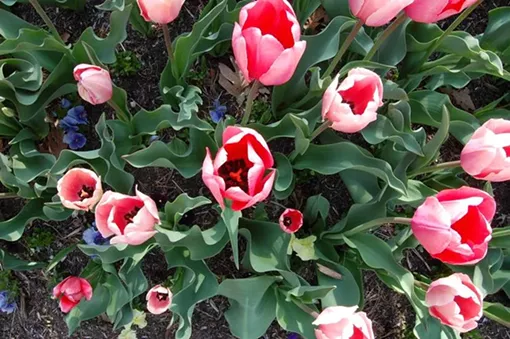 Photo by Nicholas Phillips
Tulips and pansies - Chad Garrison's favorite!
...and bathed every vein in such liquor...
Photo by Nicholas Phillips
A coy redbud hiding behind a conifer
...of which virtue engendered is the flower...
Photo by Nicholas Phillips
Branches of a crab apple tree near Jewish Memorial