Remember the indignation in 2007 when
Mayor Francis Slay
demoted the city's first African-American fire chief,
Sherman George
?
The move enraged the city's black majority. Protests followed. Slay was
booed
from a public speaking event, and more than a few people predicted that the feud would cost Slay the next election.
Well,
that
certainly didn't happen. Yesterday longtime political reporter
Jo Mannies
came out with an article in the
St. Louis Beacon
breaking down the racial vote in Tuesday's mayoral election.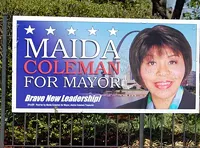 Mannies notes that voters in predominately white wards greatly outnumbered those who chose to vote in the city's predominately black wards. The difference helped Slay whup challenger
Maida Coleman
by a margin of nearly
two votes to one
.
The citywide vote was 17 percent, just above election officials' projections. But in the [predominately white] 12th, 16th and 23rd, the turnout was almost 30 percent. Overall, 10 of the wards that went for Slay outperformed the citywide turnout.

By contrast, every one of the 11 wards that went for Coleman had turnouts below the citywide tally. In several of those wards, less than 12 percent of the registered voters showed up to cast ballots.

The article continues...
What did surprise Coleman was the low turnout in African-American wards, especially those that had been in her old state Senate district. "I had hoped for a larger turnout in the wards I had represented," she said.

Well, at least one person hasn't forgotten the tiff between Slay and Sherman George. On Tuesday -- Election Day -- George
filed a lawsuit against Slay
and the city claiming his demotion was racially motivated and violated the Missouri Human Right Act.
In hindsight, he should have filed the suit Monday. Perhaps it would have gotten a few more people to the polls.