If you forgot to mark it on your calendar, Saturday was
World Pillow Fight Day
. St. Louis had its own version, under the Gateway Arch (
photos here
). About 80 kids -- most seemed to be of high school age -- showed up around 2 p.m. and let the smacking commenced. National park rangers asked them to tone it down and keep feathers from littering the Arch grounds. "There are elderly people and children around here!" exclaimed one concerned park ranger.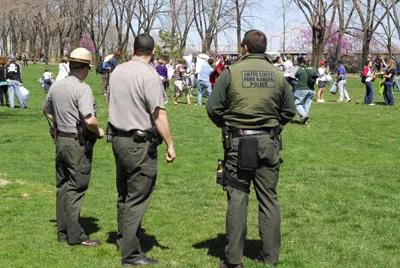 The scene was a bit more epic in New York. Here's what it looked like in front of the New York Stock Exchange: (
More photos
)
Photo: Paul Crispin Quitoriano/Village Voice
With a heavy police presence, dozens of photographers, and gawking pedestrians, World Pillow Fight Day 2009 found its voice outside the New York Stock exchange, where 45 minutes was enough time for hundreds to converge, battle, and leave a flurry of white feathers in their wake.
Photo: Erin Broadley/LA Weekly
From our sister paper,
LA Weekly
: Angelenos gathered in Pershing Square on April 4 for International Pillow Fight Day. The rules were simple: bring a pillow (preferably feather), fight until you drop, only hit people carrying pillows, and do not hit people carrying cameras. We're not sure how many people followed the last rule because we definitely got smacked. Music played (props to whoever chose Guns N' Roses) and the battle raged.
View Photos from LA
.
If you have more photos to add, post links in the comment section.