Sandy Herde
Clooney on Whittemore Place during rehearsal
George
didn't show at Busch Stadium
for Opening Day. Perhaps too pooped from a midnight shoot in
Lafayette Square
over the weekend?
A house on
Whittemore Place
in the swishy near-downtown neighborhood was the scene of some
Up in the Air
shooting Friday night. Late, I'm told -- like after midnight.
Resident and photographer
Sandy Herde
was there taking her own shots. (See one to the right and more after the jump.) Here's her rundown of the events:
Winter scene in Chicago. George drives up, gets out of the car, rings the door bell, then talks to the lead female character (Vera Farmiga) in the front hall. They [the film crew] covered several yards to each side of the house with fake snow. Just before shooting they covered the street with actual chipped ice.

Apparently the Lafayette Square homeowners got a knock on their doors one day a few months ago and were asked by some scouts if they'd be willing to have their house in the movie.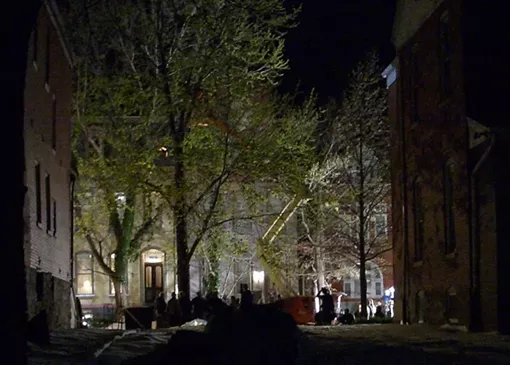 Sandy Herde
Clooney's midnight shoot in the Lafayette Square neighborhood
Sandy Herde
The ladies of Lafayette Square appear en masse for Clooney