The grand opening of the
Old Post Office Plaza
gets underway at 9th and Olive Streets at 4 p.m. today (a.k.a.
happy hour!
).
The new $8-million, 30,000-square-foot plaza was once home to a surface parking lot. Earlier this week cranes swung and workers placed finishing touches on the public space, whose signature feature is a blinding wall of polished steel.
The plaza is located directly across Olive Street from the
Old Post Office
, which underwent its own $35 million renovation before reopening in late 2006.
So, how long until downtown office workers and loft dwellers complain that homeless residents of
Larry Rice's shelter
are ruining their bright, shiny plaza? I'll give it three weeks.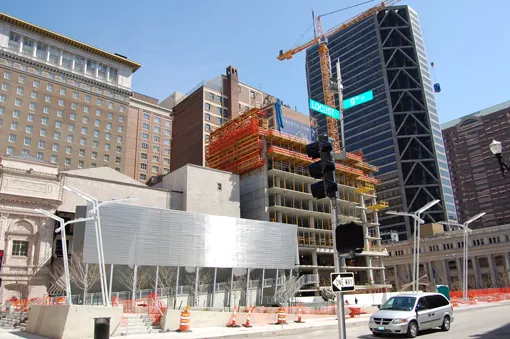 Read more "official" plaza nitty-gritty after the jump.
Per a press release on the plaza:

The award-winning design incorporates brightly lit Wing Lights, cloud and screen walls, extensive landscaping and water features with a sculpture "Torso di Ikaro" by artist Igor Mitoraj as its focal point. Development of The Plaza was identified as a key component of revitalization of the Old Post Office District in the 1999 Downtown Development Action Plan.

The dedication weekend will kick off with an official Grand Opening on Friday at 4 pm. On Saturday, free family entertainment begins at 10 a.m. and musical acts start at 1 p.m. At noon on Sunday, a range of musical acts will perform, including: the Rum Drum Ramblers, the St. Louis Brass Band and Alvin Jeff and Phat NoiZ. 



The Plaza is privately owned and managed by Downtown Now! for public enjoyment. Project funding totals $8.16 million and includes support from the Danforth Foundation, the US Bancorp Community Development Corporation, the St. Louis Brownfields Cleanup Fund (via SLDC) and the Gateway Foundation. The Gateway Foundation additionally funded the design fees and will install and maintain the sculpture. The budget includes funding for ongoing programming and operations.