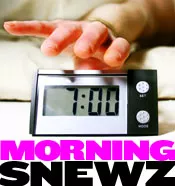 The FBI is
reportedly investigating
members of the Missouri House over so-called
"pay-to-play"
appointments for committee seats. The specter of the FBI probe prompted legislative General Counsel
Don Lograsso
to send a memo to all House members this week warning them not to accept "campaign contributions to yourself or others, a job for yourself or others, dinner, travel, tickets to events, etc."
And speaking of FBI inquiries...East St. Louis officials held a public meeting last night to
address a federal investigation
into the city's liquor licenses and sales.
Mayor Alvin Parks
Jr.
-- who also serves as the city's liquor commissioner -- informed the crowd that he recently placed deputy liquor commissioner
Walter Hill
on administrative leave pending the outcome of the investigation. In recent weeks,
law enforcement and residents have criticized the city's all-night liquor licenses
that allow bars and nightclubs to remain open until 6 a.m.
Perhaps it was much ado about nothing. The
Memphis contract
never arrived. The
University of Georgia offer
fell by the wayside. And
yesterday
Mizzou basketball coach Mike Anderson signed a seven-year extension with the university
that will keep him at the school through 2016. Financial terms have yet to be revealed.
It's April 1 --
April Fool's Day
. Watch out for pranks and that nasty
Conficker
computer worm that's supposed to be released today. But then, if you have the virus, your computer is probably at the mercy of
Russian Viagra salesmen
right now and
you're not reading this blog
.