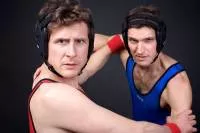 Photo: John Meloy
When grappling with reason, it's best to counter with the unexpected.
We stared at one other, he and I, counting heartbeats while the silence mounted. Would he be the first to speak, or would I profane the quiet with clumsy speech? A joke, a riddle, something inappropriate in its candor? The possibilities for embarrassment were infinite.
"We're deep in the thicket of reason now, chum."
"True. We have no choice in the matter."
"Then it's agreed: On the count of three, we explode."