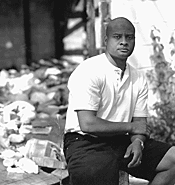 Photo: Jennifer Silverberg Kinloch Mayor Keith Conway
In this week's dead tree edition of
RFT
, I reported on the
troubles facing the Kinloch police department
, including a recent strike by the city's cops and allegations of unpaid wages and dangerous working conditions.
One detail about the city that was only touched on briefly in the story is
NorthPark
, the sprawling 550-acre commercial and industrial development by ClayCo and McEagle Properties that is currently under construction in parts of Kinloch, Berkeley and Ferguson.
As part of the project, the developers gave each of the cities involved millions for "municipal improvements." According to
Mike Jones
, an adviser to St. Louis County Executive Charlie Dooley and chairman of the NorthPark Commission, Kinloch is slated to receive approximately $5 million.
There are, however,
strings attached
. Jones says the money cannot be used for "routine budget expenses," such as paying its police officers, but must be spent on something tangible, such as a new city hall or other form of infrastructure.
The two other cities receiving funds moved forward with their projects long ago. Ferguson spent about $500,000 on improvements to its roads shortly after NorthPark broke ground in 2006. Berkeley, which received approximately $6 million, is in the process of designing a new municipal building.
Kinloch, meanwhile, has yet to act
and get their share.
Jones says it's a puzzling delay considering the fact that cash-strapped Kinloch, which has an annual operating budget of about $600,000, would seem to have multiple needs to address.
"I think that's the issue," said Jones. "
They've got a lot of things they could spend $5 million on,
and they have to decide where they think it would benefit them the best."
Asked why it has taken so long for Kinloch to act and put the funds to use,
Kinloch Mayor Keith Conway
had a colorful response.
"Shit, you ask that question?? Ain't you heard the economy is fucked up? Ain't nothing moving fast like people want it to. You just kind of got to go with the flow. This is the time to do it and this is what we doing. I'd love for the thing to have happened three years ago but unfortunately it just kind of got to go when it's ready. I'm thankful [the money] is still available and we can put this plan together and it can help Kinloch."
What happens if Kinloch can't find a way to spend its extra dough? "I guess if they never come up with an idea for a public improvement, the money would just stay in escrow," says Jones.