Tuesday, March 24: Morning's Newz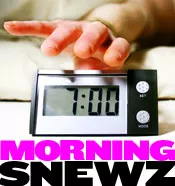 Yesterday's high temperature hit 75. But was it warm enough for a swim? A helicopter yesterday
rescued a man from the Mississippi River
after he
stripped off his clothes and jumped off the Jefferson Barracks Bridge
. The man told police he was upset over a domestic problem.
Ousted Illinois governor
Rod Blagojevich is stepping in tomorrow to host a radio show
on
WLS-AM in Chicago. The station had offered Blago a full-time gig in January if he resigned as governor.

Two men in Wellston were executed last night. Both victims were shot in the head.

Here's a twist on the smoking-ban debate. The Wildwood City Council is considering a ban on wood-burning stoves after a family complained that their neighbor's stove stunk up the subdivision.


Riverfront Times works for you, and your support is essential.

Our small but mighty local team works tirelessly to bring you high-quality, uncensored news and cultural coverage of St. Louis and beyond.

Unlike many newspapers, ours is free – and we'd like to keep it that way, because we believe, now more than ever, everyone deserves access to accurate, independent coverage of their community.

Whether it's a one-time acknowledgement of this article or an ongoing pledge, your support helps keep St. Louis' true free press free.