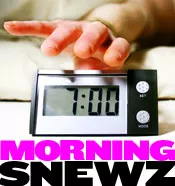 Yesterday's high temperature hit 75. But was it warm enough for a swim? A helicopter yesterday
rescued a man from the Mississippi River
after he
stripped off his clothes and jumped off the Jefferson Barracks Bridge
. The man told police he was upset over a domestic problem.
Ousted Illinois governor
Rod Blagojevich is stepping in tomorrow to host a radio show
on
WLS-AM in Chicago. The station had offered Blago a full-time gig in January if he resigned as governor.

Two men in Wellston were executed last night. Both victims were shot in the head.

Here's a twist on the smoking-ban debate. The Wildwood City Council is considering a ban on wood-burning stoves after a family complained that their neighbor's stove stunk up the subdivision.