As history has shown,
Richard Milhous Nixon
was an extremely paranoid man. The 37th president installed a secret taping system in the Oval Office that allowed him to record conversations and phone calls and then use those tapes to strong-arm anyone -- friend or foe -- who dared to go back on their word.
Nixon's tapes would also be his downfall. The so-called
Smoking Gun tape
released to federal investigators during the Watergate probe revealed that Nixon knew about the cover-up from the beginning. A few days after the release of the audio tape, Nixon resigned the presidency.
So, what the hell does this history lesson have to do with Governor Jay Nixon?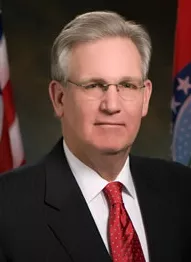 Well, there's a group out there who believes that Jay Nixon is acting a bit too much like President Nixon. First came the governor's
ill-fated attempt
to
ban cell-phones at his press conferences
. (Nixon's staff said the ban was for "security reasons" while media folks saw it as an infringement of their First Amendment rights.)
Then came news that
the governor has installed a video camera in his Jefferson City "Oval Office."
Nixon spokesman
Jack Cardetti
,
has told media
that the camera contains no audio and does not record onto a backup tape. Its purpose, according to the spokesman, is simply to allow the governor's secretary to see when meetings begin and end so that she can usher in guests more efficiently.
But that doesn't fly with the governor's detractors and today south St. Louis resident
Josh Carter
filed a Sunshine Law Request asking for Nixon to hand-over raw video from the camera. Carter says he took the action following a
report last week
that
Nixon and other state officials consider Libertarians to be a threat to state security.
"I was surprised to discover that Governor Jay Nixon installed a camera in his office to watch the people he meets with," says Carter in an e-mail. "In those meetings, I bet he has met with folks who helped him make, in his first few months in office, some very questionable decisions ranging from supporting a pro-illegal immigration nominee to releasing an intelligence "report" that profiles conservatives like me who happen to have positions that are opposite Mr. Nixon. I look forward to reviewing the video to see what is actually going on."

You may view a copy of Carter's Sunshine Law request
here
.