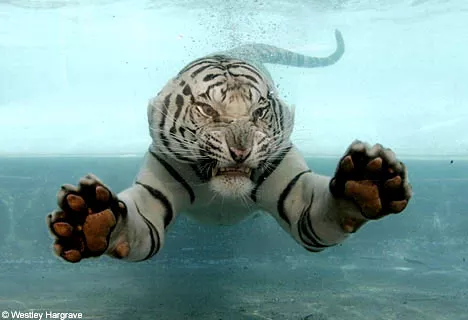 http://i.treehugger.com/images/2007/10/24/white-tiger-swimming.jpg
While the Missouri Tigers are busy clawing their way through the first round of the NCAA tournament, the Humane Society of the United States says that when it comes to keeping your neighbors from housing real, live Tigers as pets, the Show-Me State is a dangerous place to be.
In a
press release
issued earlier this week in the wake of the
high-profile chimpanzee attack
in Connecticut, the organization said that Missouri, along with
Oklahoma, Nevada, North Carolina and Ohio
, is one of the five worst states at regulating exotic and potentially deadly pets and their owners.
Citing lax exotic pet registration laws, last year's series of
tiger attacks
and a
problem with puppy mills
, they say the state "ranks at the bottom when it comes to allowing dangerous wildlife as pets, thereby
jeopardizing public health and safety
and contributing to the inhumane treatment of these animals."
They add: "Although the state requires certain dangerous exotic animals, including primates, to be registered with local law enforcement,
the rule does not appear to be enforced.
"
In a stroke of perfect timing, the St. Louis County Department of Health just issued a
press release
on this exact same topic earlier this week, reminding citizens that all non-domestic animals--including
venomous snakes, primates, bears, wolves and coyotes-
-must be registered with the department's animal control division.
Owner's of such pets must "provide proof of insurance to pay for any injury or damages caused by the animal."
Yup, if your neighbor's pet grizzly gets hungry and
bites off your head
, you can rest in peace knowing he bought insurance just in case of such an event.