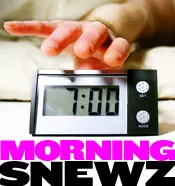 Paris Hilton
wowed a crowd of 500-plus folks at the St. Clair Square mall this weekend. A few hardcore
fans arrived to the store at 4:30 a.m.
to meet the celebutante and buy her latest perfume, Fairy Dust.
The
Alton-Telegraph
has
video footage of anti-gay protesters
who tried to crash the funeral last week for slain Maryville pastor, Fred Winters. The hate group met stiff resistance from state troopers and a Christian motorcycle gang.
Highway 40 construction has
altered the start time of tomorrow's St. Patrick's Day parade
in Dogtown. The march will get underway at 11:30 a.m. instead of the usual 12:30 kickoff. One wonders: Is there a recipe for a green Bloody Mary?