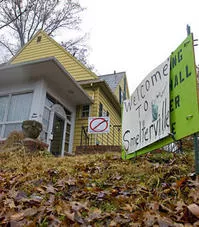 Crystal City council members passed a conditional use permit Thursday that clears the way for a
controversial iron-ore smelter
in the Jefferson County town.
Opponents of the smelter had hoped to
thwart the project
during the permitting process last week, but those efforts failed when the council voted 5 to 4 to approve the plans. Mayor Tom Schilly cast the deciding vote.
Representatives with
Concerned Citizens for Crystal City
(C4) accuse the city of hurriedly approving the permit prior to next month's city council election. That's when C4 hopes that a new cast of council members might be more receptive to limiting or repealing the city's agreement with the developer of the smelter,
Wings Enterprises
' Jim Kennedy.