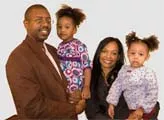 ebonyexperiment.com
The Anderson family.
Have you caught wind of the
"Ebony Experiment"
in yesterday's
Los Angeles Time
s (though
John and Maggie Anderson
are conducting their year-long experiment in the Chicago area, where they live). A quick summary from the
Times
:

The Andersons, African Americans who rose from humble means, are attempting to spend their money for one year exclusively with black-owned businesses and are encouraging African Americans across the nation to do the same...

"Supporting your own isn't necessarily exclusive," said John Anderson, a financial advisor who grew up in Detroit and has a Harvard degree in economics and an MBA from Northwestern, "and you're not going to convince everybody of that."

The undertaking, which began Jan. 1, "is an academic test about how to reinvest in an underserved community" and lessen society's burden, he said.

So far, the Andersons have made out OK finding black purveyors of groceries and sundries,
the Times reports
, but appropriate clothes and shoes for the couple's kids are proving a struggle.
Makes me wonder, what would be hard to find in St. Louis?