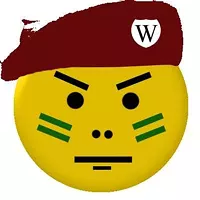 Wikimedia Commons
Unreal's new look.
In this week's dead-tree edition of the
RFT
, Unreal had a
review
of a new "M/M" romance called
Transgressions
. M/M romances are historical tales of deep and abiding love between two men and
Transgressions
itself is the poignant tale of the star-crossed relationship between two young men during the English Civil War.
Unreal has nothing against the romance genre. The great thing about reading romances is that you always know how they will end up, which makes for comforting reading when you're depressed. As an editor of romance novels once told us, the great ones show two people bringing out the best in each other. That's a happy thing. It makes us feel good. Also, unlike your favorite children's books (which are also comforting to re-read), there's an element of sex, which is nice when you're feeling depressed
and
lonely.
Unreal is only human and we get depressed and lonely occasionally, so we've come to consider ourself something of a romance novel aficionado. We consider our judgment of romance quality sound. We have occasionally been asked for recommendations.
We began to read
Transgressions
with our usual careful consideration, which began to diminish as we slowly came to the conclusion that the book was a steaming pile of crap.
The characters begin as assholes and stay assholes. We, the reader, are not even led to believe that they are each other's sincere true love, since one of the assholes gets into a sweet domestic arrangement with another dude, who is actually a lot more likeable than the other main asshole. Nothing here about bringing out the best in each other.
There was also a weird Puritan S&M subplot which we found, frankly, disturbing. And not in a good way.
So Unreal wrote a negative review of
Transgressions
. Within an hour of the article going up on the
RFT
Web site, we received a host of negative comments. Strangely, none of these people claimed to be Erastes, the book's pseudononymous author. Were they just waiting to pounce on us or something? We were accused of being anti-romance and anti-m/m sex and also "a teensy bit deprived in the intimacy department".
We were also told we were not a "REAL writer" because our review neglected important literary concerns like "narrative, symbolism, theme, synecdoche (no, dear Unreal, that is NOT a place in New York) and the many and varied tropes which both enlighten and inform the rich tradition of heteroglossic literatures." (We would've written about 'em, except we couldn't find 'em.)
Anyway, Unreal feels chastened. Especially after we read
an article
today in the
Chicago Tribune
about Cam Brown and Brett Wescott, two students at
Purdue University
who stand outside the university's chemistry building for two hours every Wednesday and offer free compliments to passerby.
They insist their compliments are sincere. They don't even want to pick up girls since they already have girlfriends. They just want to cheer people up in these uncertain and precarious and depressing times.
They say stuff like, "Love your curly hair!", "I like your hustle!" and "You look very businesslike today!" They try to compliment something about everyone they see. Some students say they actually look forward to Wednesdays.
Kate Harding at
Salon
has not actually experienced the compliment guys and their work, but
writes
that she has mixed feelings about it.
Some of the things they've reportedly said -- "I like your school spirit," "Thanks for your hard work" (to a groundskeeper), "Stay nutritious!" (to someone eating an apple) -- are pretty unobjectionable, especially with the sign there to explain. But others, such as "I like your hustle" to a woman running past, and "I like your curly hair. Great smile" sound exactly like the kind of "compliments" from strange men that can feel a lot more unsettling than flattering. Which might explain why people's responses to it include both "waves, thumbs-ups, high-fives, thank-yous" and "the finger and nasty looks."

Yes, there is a point to this blog post. We're getting there.
In order to atone for the disservice some people feel we did to
Transgressions
, and because we feel so inspired by the compliments guys, Unreal is going to get into the compliments business, too! But in order to keep from being mistaken for a common street harasser, we will only give compliments for people who want them.
If you feel low and sad and want somebody to say something nice to you, Unreal's your columnist! Just send an e-mail to
unreal@riverfronttimes.com
. Send a picture if you wish to be complimented for a physical attribute or a brief message if you prefer to be recognized for your intelligence and wit.
Alternatively, you could just read a romance novel. (We recommend
Outlander
by
Diana Gabaldon
-- seriously, it's
like crack
-- or anything by
Eloisa James
.)