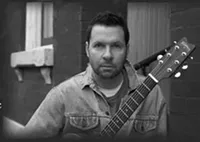 www.musicformediaproductions.com
Christopher Ave
The journalism think-tank Poynter Institute is out with an
amusing story
about
Post-Dispatch
political editor
Christopher Ave
.
An accomplished musician, Ave recently wrote and produced a tribute to several copy editors who've fallen to the corporate axe at the paper. (Poynter reports that the P-D lost five copy-editors in January and now employs a staff of 21 full-time copy editors.)
Since posting
"Copy Editors Lament"
on his blog last week, the song has become something of an Internet sensation -- at least among media folks.
Today
on his blog
Ave writes that he's "grateful for all the fuss" but points out that the song "originated with the pain most of us in the news business have been feeling, especially those who have lost their jobs."
Here are a few lyrics:
AP Stylebook is my bible/Helped me stop a suit for libel/But nothing ensures my survival now/And I don't know what I'll do/After I'm through/Killing my last adjective.