Last week, the Cook County Sheriff's Department
filed a federal lawsuit
demanding that the creators of
Craigslist.com
take down their site's "erotic services" section, calling it "The largest source of prostitution in America."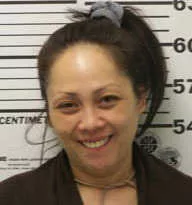 Apparently the fuzz in the Metro East community of Caseyville are following the Chicago-area sheriff's lead. On Monday the city's police arrested
Reena Lee Corpos
(right) at the Days Inn in Caseyville after undercover cops arranged a meeting with her via her Craigslist sex ad.
According to the police report, Corpos noticed a wad of bills on a table in the hotel room and asked how much the officer had. When he told her he had $316, she said she would "

do the sex thing

" for $316.
A records check shows Corpos has prostitution arrests dating back to 1991.

She has 20 arrests for prostitution

and soliciting in California, New Mexico, Nevada, Utah, Arizona, Massachusetts, Illinois and Missouri. Her latest arrest was for two counts of prostitution in St. Louis on Feb. 11.


Surely the world is a better place because men can no longer, ahem, "do the sex thing" with Reena Lee. And if the media-hounding Chicago sheriff gets his way (despite the fact that the
he didn't tell his county's state's attorney or attorney general about the suit
) and Craigslist stops posting erotic services (it won't),
prostitution will cease to exist
. Right?