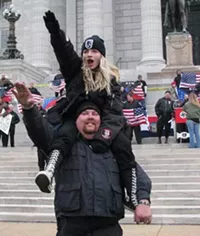 www.nsm88.org
Nazi and child at a Missouri rally last year.
This just in from the
National Socialist Movement
, a.k.a. America's Nazi Party. The group is planning a rally in St. Louis on April 18 under the Gateway Arch.
They encourage all "patriotic Americans to come out in support of traditional American values."
According to a
press release
, the outfit is particularly upset that the nation is being "overrun by an invasion from Mexico" and "immorality is being shoved down our throats on a daily basis by the mass media."
They're also angry -- it seems -- that their Caucasian brothers are losing out in the businesses of drug dealing, crime and rape.
...when the White man that built this Nation is being pushed out to make room for non-White gangs, rapists, criminals, and drug dealers; when the average American has absolutely no voice; it is high time we stand up. It is high time we defend ourselves. It is high time we take our country back. The NSM will not take it any more!