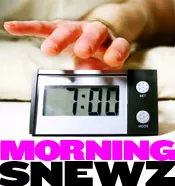 Clooney chaos continues in St. Louis! The actor and crew filmed parts of "Up in the Air" last night in a downtown office building.
In other news...St. Charles police have
busted several bars
on the city's historic Main Street for serving underage patrons. Bouncers routinely allowed a 19-year-old police informant to enter nightclubs without checking her ID. Across the
other
river, in East St. Louis, police are
investigating the burglary
of the home of the late choreographer
Katherine Dunham
. Thieves somehow made off with a bed and refrigerator.
St. Louis City voters, meanwhile, apparently elected their first
openly gay alderman
in Tuesday's primary when
Shane Cohn
beat a crowded field to represent south city's 25th Ward.
Also in south city ... it's been a rocky honeymoon for
InBev
and
Anheuser-Busch
. The combined company saw a 95
percent drop in profit
following its fourth-quarter marriage last year. CEO
Carlos Britto
says AB-Inbev execs won't get bonuses this year. Pobrecito!
In sports, the Mizzou Tigers defeated the #5 team in the nation, the Oklahoma Sooners, in a
fast and frenzied game
in Columbia. The victory should land the Tigers a decent birth in this month's NCAA tourney.