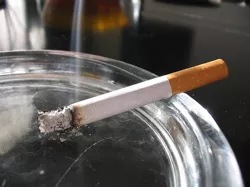 Forget heart disease and lung cancer, which won't kill you for another 30 years or so, researchers from the University of Miami School of Medicine found that
exposure to second-hand smoke may double the likelihood of depression:
This study confirmed exposure to smoke by measuring cotinine -- a chemical that occurs in blood after breathing in smoke. There were cotinine levels for more than

3,000

non-smoking adults in a federal health study. An additional

92,000

non-smokers only reported if they lived with or worked around smokers. Everyone also filled out questionnaires on symptoms of depression.
Whether secondhand smoke was verified by the blood,

those exposed to smoke were far more likely to have symptoms of serious depression

, says study leader Frank Bandiera, a public health researcher at the University of Miami School of Medicine.

Even working where smoking was allowed in public places more than doubled the risk of depression

, he says.
Then again, if an indoor smoking ban somehow happens, how depressed will all the smokers be that they have to step outside to light-up?