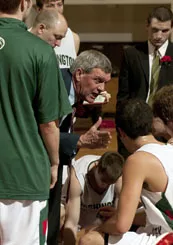 bearsports.wustl.edu
Coach Edwards takes Wash U. to another Div. III tourney.
With all the noise being made these days about the Mizzou Tigers, Blues hockey and Cardinals spring training, arguably the best sports team in St. Louis is wrapping up its season virtually unnoticed.
The Washington University
men's basketball team
scored a 72-49 victory over University of Chicago last weekend to conclude its regular season. The team next faces Lawrence University (19-6) this Friday night in the first round of the the NCAA Div. III tournament in Elmhurst, Ill.
Last weekend's win was head coach
Mark Edwards
' 500th career victory and brought the Bears to an incredible 23-2 record for the year. Web site
D3hoops.com
now ranks Wash U. as the #2 team in the nation entering the first round of the Div. III tourney.
Last year's Bears won the tournament on the shoulders of senior
Troy Ruths
who carried led the team to a 90-68 victory over defending champs Amherst College. This year is the 14th time Wash U. has entered the Div. III tourney.