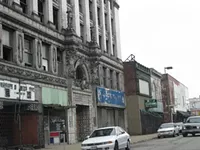 flickr.com/photos/binkle76
Downtown East St. Louis
Illinois State Police Captain
Mark Bramlett
says after-hour nightclubs played a role in a dozen homicides his department has investigated in East St. Louis since 2005. And the perpetrators of those crimes are often booze-filled visitors from St. Louis.
"We're seeing an increase in violence, and it's often not from residents of Illinois who are attracted to the after-hours nightclubs," Bramlett told the
Belleville News-Democrat
yesterday. "When St. Louis city bars close, some Missouri residents come to Illinois and often get involved in armed violence as they head back across the bridge into St. Louis."
Now, according to the newspaper, East St. Louis officials are reviewing the operating hours of city bars and nightclubs -- some of which stay open 'til 6 a.m.
"We're kind of looking at shutting down at the same time (3 a.m.) as St. Louis," East St. Louis City Manager
Robert Betts
told the newspaper. "Quite often, when St. Louis closes, we get all of the traffic from St. Louis. A majority of them are already intoxicated, and they come here and get further intoxicated."
But don't expect the lights to dim anytime soon at your favorite East Boogie watering hole. Mayor
Alvin Parks
-- who also serves as the city's liquor commissioner -- notes that the nightclubs provide the city with much-needed revenue in the form of $2,600 a year in license fees.
Parks tells the
News-Democrat
that the city may revoke late-night licenses of some nightclubs with continual problems. Other ideas are to require clubs to install surveillance cameras and improve lighting outside the establishments.