A few months ago, presidential hopeful Barack Obama drew
100,000 supporters
to the Gateway Arch. On Friday morning, President Obama's opponents followed suit, drawing a few hundred critics of the federal government's
economic stimulus package
.
At the rally, the president was referred to as a terrorist, a commie or at best, a liar. Others just thought he stunk.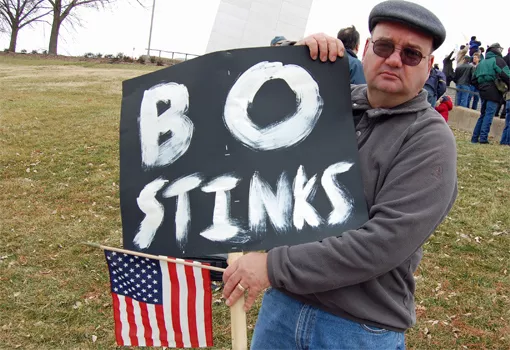 Dwight Johnson of south St. Louis, carried around this conspicuous black poster board sign, smeared with the words: "BO STINKS."
Asked his thoughts on why a party formerly known as the
"silent majority"
needed signs, megaphones, costumes and
tea bags
to make themselves heard, Johnson replied:
"I grew up in the '60s and I saw a lot of that. Conservatives don't go around making a lot of noise, but you're messing with the fundamentals," he said, holding his sign one hand and clutching an American flag in the other.
Organizers of the Tea Party (here's its
Facebook
page) -- a riff on the Boston Tea party, taxation without representation and all of that -- encouraged attendees to wear red to the event. Though red wasn't in abundance, organizer
Bill Hennessy
explained it this way:
"Even though (red) has other connotations that might not fit with what we're doing
(like the "red coats" of the British Army or communists?!?)
, it represents for us the blood of the patriots to remind them that freedom isn't free."
Hennessy was a good sport about about the color of the event, and speaking of color, colorful language was ever-present, especially from the megaphone of one
Dana Loesch
, a St. Louis-based commentator and blogger.
Loesch railed: "I have had enough, you've had enough! We're not going to be taxed, we're not going to be penalized! We are free citizens! We are not free loaders!"
Despite Obama's claims that only those families making more than $250,000 annually would be hit with higher taxes, the vitriol toward the President was palpable.
Ed Martin
, a St. Louis lawyer and board member of the
American Issues Project
stood amongst the bundled-up in only a suit jacket, next to Missouri state senator
Jim Lembke
.
Martin opined: "No matter what people say about the past administration, what the government needs to do now with the stimulus plan is to help people get jobs," Martin said, adding he had appeared on both the Fox News Channel's
O'Reilly Factor
(
here's the YouTube video
) just last Friday and on Monday on CNN .
The tea party was one of many going on around the country Friday. View a
slide show of scene
and some of the more creative signs spotted on the Arch steps.