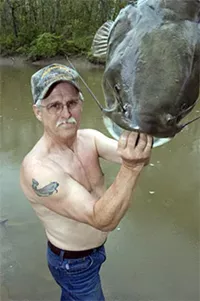 Jennifer Silverberg
Harold Ramsey with a whopper.
Harold Ramsey
and other supporters of hand fishing (a.k.a. noodling) spoke before the Missouri Senate Agriculture committee yesterday, according to the
Post-Dispatch
.
Ramsey, his fisherman friend
Gary Webb
and other members of
Noodlers Anonymous
were featured in a 2007
RFT cover story
about the unusual back-country sport of noodling.
Missouri legislators are once again considering a bill that would legalize the activity in the state.