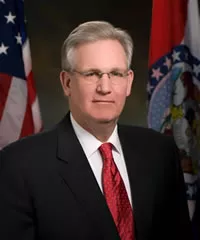 transform.mo.gov
Why, that's a fantastic idea!
On Monday, Gov.
Jay Nixon
's office launched a Web site asking Missourians to submit ideas and proposals on how to spend the $10 billion the state is expected to receive from the Federal Recovery Act.
By Tuesday, the site --
transform.mo.gov
-- was overflowing with more than 400 ideas and proposals. Today that number stands at more than 1,000.
"I'm thrilled to see so many Missourians participating," said Nixon in a statement earlier this week. "I look forward to reviewing all these suggestions with my Transform Missouri team."
I can't wait for the governor to green-light the two proposals I submitted. The first calls for a
gigantic swimming hole
in St. Louis. The second would add a
kick-ass new tourist attraction
to the St. Louis riverfront.