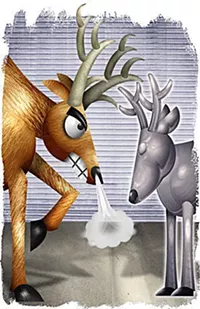 After more than a year of debate, the Town & Country Board of Alderman
approved last night
a plan to decrease its deer population.
The issue has prompted sharp debates at city hall between people who enjoy the deer and those who eye the creatures as a nuisance. In November, an angry and injured ten-point buck
entered a Town & Country Home Depot
. Police killed the deer with an assault rifle only after the animal refused to succumb to two shots from a pistol.
Today Town & Country estimates its deer population at between 600 an 800. Drive through the quiet streets of this west county suburb at night, and you're bound to see at least a half dozen of the creatures roaming the neighborhoods. They're sort of like squirrels out there.
Under the measure approved by the board, the city will spend approximately $50,000 for sharpshooters to kill the animals. Another $75,000 will be spent sterilizing some of the female deer.
As I understand it, the sterilization could be messy. It requires conservationists to trap the does, sedate them and then perform a tubal-ligation surgery on the scene. Each sterilization will cost between $750 and $1,000 -- or about twice what you'll pay for a good
deer mount on eBay
.