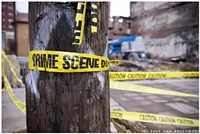 flickr.com/photos/macwagen
Law-enforcement agencies across the nation are bracing for a spike in crime as the economy continues to plunge.
This past weekend, UMSL criminologist
Richard Rosenfeld
told
McClatchy Newspapers
that history indicates that an increase in crime is imminent.
"There's little question that crime rates peak during or, on occasion, immediately after a recessionary period," Rosenfeld told the newspaper chain. "And that's been the case for much of the period" after World War II. It's happened in each of the last five recessions, he said.
The FBI has yet to release its crime statistics for the second half of 2008, but a national survey of police departments last month found that 43 percent of respondents reported an increase in "recession-related" crimes.