The St. Louis Metropolitan Police Department just released its final numbers from Saturday's Mardi Gras celebration in Soulard.
The police, City Excise Division and State Liquor Control issued a total of 116 charges against individuals. Officials say the number of arrests this year were comparable to previous Mardi Gras' in St. Louis.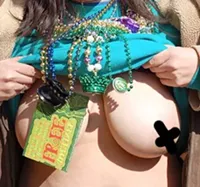 David Walthall
A Soulard flasher caught on film.
Curiously, not one person was cited for indecent exposure this year despite the rampant public nudity at Mardi Gras. I guess officials turn the other cheek -- so to speak -- to that offense.
Here's the official run down of charges:
68 Minors in Possession of Alcohol
17 Urinating in Public
12 False Identification
4 DUI's
4 Supplying Alcohol to Minor
3 General Peace Disturbance
2 Resisting Arrest
2 Assault on a Law Enforcement Officer (an officer was punched and an officer was spit on while attempting to take a man into custody)
1 Selling Liquor without a License
1 3rd Degree Assault (a man got into a fight with a friend and punched him)
1 Property Damage (a man got into a fight at a friend's Soulard home and damaged a window at the home)
1 Marijuana Possession