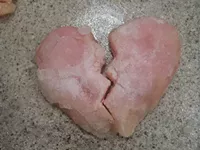 www.flickr.com/photos/7723181@N04
A chicken-hearted way to tell her you no longer care.
Unreal was at a local
Schnucks
the other day picking up some
Oreo Double Stufs
when we heard the most unusual exchange in the checkout lane.
Ahead of us in line was a
ZZ Top
look-a-like in a biker jacket with a rhinestone patch that read: "If You Can Read This, The Bitch Fell Off". The gentleman was buying two whole
Pilgrim's Pride
chickens and nothing else.
Seeing his groceries on the counter the cheerful cashier inquired: "Hmm are you doing the cooking tonight?"
"No," replied the biker. "I'm cutting the hearts out 'em and giving them to my ex-wife, just as she did to me."
The look on his face made it clear he wasn't messing around. We can only assume he's not a great cook.