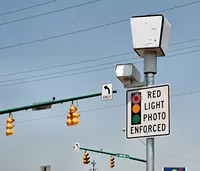 Opponents of red-light cameras are scurrying to defend
Senate Bill 211
as it heads to a committee hearing tomorrow morning. The measure,
introduced last month
by State Sen.
Jim Lembke
, would ban the use of the controversial cameras in Missouri.
Jesse Irwin
, co-founder of
Missourian's Against Red-Light Cameras
, says his organization was taken aback when apprised that the bill would go before the Senate Transportation Committee on Wednesday.
"This is a complete ambush," says Irwin. "This was designed to throw us off balance." (Irwin is asking anyone interested in speaking at tomorrow's hearing to contact his organization through its
Web site
.)
Kit Crancer
, chief of staff for Lembke, isn't quite as alarmed by the hearing. "It came quick, but we're just thankful that it got a hearing," he says. "We're going to take it and run."
The bill could be voted out of committee following the hearing or killed in an executive session. If eventually approved by the General Assembly and signed into law, the ban is scheduled to go into effect in August.
In related news, legislators in the Missouri House last month introduced
HB 241
that would limit red-light camera fines to no more than $25 (including court costs) and require all money made from the citations go to the local school district in which the infraction occurred.
Red-light tickets in St. Louis currently cost $100 per incident.