The marriage between the Renaissance Grand and St. Louis was rocky from the start.
The
Renaissance Grand & Suites
downtown goes on the auction block today, having
not made enough money
to keep pace with its debt payments.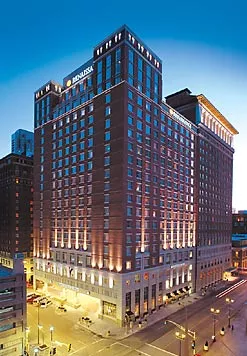 The owners of the hotel, Historic Restoration, Inc., lament the sale, but senior vice president and regional manager Ron Silverman says the blame does not fall only on the shoulders of HRI.
A flagging economy, too many rooms at the Renaissance,
a lack of conventions
and junk projections about the future of downtown by the
Convention & Visitors Commission
doomed the project.
"[The hotel plans] were based on room rates, and room occupancies that could never be achieved," Silverman says. "The Convention & Visitors Commission gave us bogus information.
When asked further about the visitor projections by the CVC, Silverman said it was "water under the bridge."
The hotel's bondholders will put the building up for public sale today at the Civil Courts Building.
But, says Silverman, it might not sell.
"I'm not sure that anybody will bid on it," Silverman explains. In that event, "The bondholders will continue to operate it and there will be no noticeable impact for hotel guests. Marriott will continue in their management role.
"It would really have to be a fire sale, and there are still issues to be worked out with the city. I'm not sure that anybody has worked out those issues yet either."
The Renaissance -- which consists of a hotel at 800 Washington Avenue and a "Suites" location across the street at 827 Washington Avenue -- totals 1,100 rooms, making it the area's largest. Formerly the
Statler Hotel
(which dates back to 1917), the Renaissance Grand is also the home of
An American Place
restaurant.
"It's like getting married: You never go in thinking you're getting a divorce," Silverman said this morning.