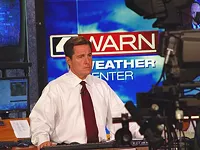 kmov.com
Kent Ehrhardt predicts a 100 percent chance today will be awesome!
Good morning campers. It's a bone-chilling 19 degrees in the Gateway City as I write this, but the forecast calls for a major warm up later this afternoon.
Perfect weather, I'll say, for "National Weatherman's Day." Don't believe this holiday exists? Well, head on over to the Web site of the
National Oceanic and Atmospheric Administration
(NOAA) for a history of this not-so-cherished observation.