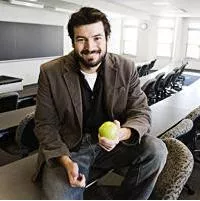 By Jennifer Silverberg
Joe Webb, a.k.a. Dr. Wizard
The
Post-Dispatch
today reprises
an article I wrote
back in November on Saint Louis University doctoral student
Joe Webb
and his highly successful blog
Dr. Wizard's Advice to College Students
.
To my knowledge, neither Webb or his alter-ego Dr. Wizard has ever penned a column on Newspaper Writing 101 as practiced at the P-D headquarters on North Tucker. But it's been suggested to me by a colleague that it goes something like this:
Step One: Read the RFT.
Step Two: Find a story you like.
Step Three: Wait a few months.
Step Four: Claim said story as your own.

Personally, I have no problem with the daily re-writing my original story. Joe Webb and his blog deserve the publicity. Also, I'm a firm believer in the ol' saying: Imitation
is
the sincerest form of flattery.