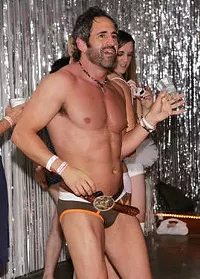 Looking for some first-rate entertainment this evening? Join me tonight around 9 p.m. at
Brennan's
in the Central West End for their monthly
Arguments and Grievances
.
I'll be debating the merits of
Riverfront Times
versus a magazine (or is it a cosmetics' catalog?) called
Alive
.
I've never read or heard of
Alive
, but I'm told the man to the right is its editor-in-chief.
Hopefully, tonight's debate won't include a swimsuit event, otherwise I'll be forced to wax my legs and chest to match the competition.