Fair warning
: There will be no public intoxication or baring of breasts tonight as consultants with
Anheuser-Busch
and Budweiser distributor
Lohr
educate Mardi Gras concessionaires on
TIPS
(Training for Interventions ProcedureS).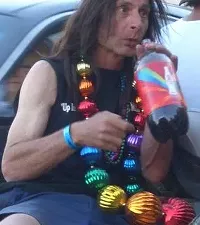 This dude will drink for TIPS.
The class tonight at 6 p.m. at One Busch Place on the A-B campus will include "
role-playing exercises" that teach "how to avoid potentially over-serving patrons."
An A-B press release states that three million people have been TIPed to date. (No word on how many millions more have been made "tip-sy" thanks to the brewer.)
In related news, a group calling itself
TITS
(Taunting for Immediate Titty Showing), will be offering on-site training when the St. Louis
Mardi Gras parade
kicks off Saturday Feb. 21.