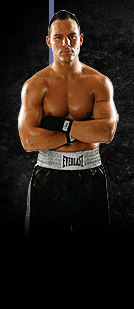 "Oh, you
mother
fucker!" John Bray blurted last Wednesday night when St. Louisan
Ryan Coyne
got
*popped*
during his first fight on the reality show.
Coyne's right eye split plum open under the glove of 41-year-old fighter Tim Flamos. Watch the bloody clip (called "Split Eye") right here.
So...did Coyne pull off a victory against the old dude?
With two fights left in the first bracket, Coyne, from the blue team, got snubbed early in this episode by
Rico Hoye
, of the gold team, who chose to fight
Mike Alexander
, boasting, "He was the only challenge left over there."
Dop! That left Coyne paired up against Flamos, the token old guy from Brockton, Mass, who, I must say, has the best
Masshole accent
*ever* (notwithstanding the lisp).
In match-up number-one (both fights went the same night), Alexander came out scrappy, Hoye sloppy.
By round three, the boy Hoye had finally turned it on, but Alexander returned strong one round later. After the final-round bell, Hoye went animal.
Clearly another win for the yellow team. You betcha.
At last it was time for Coyne, the youngest
cruiserweight
on the show, to go to work on the eldest contestant, 41-year-old Flamos.
"You know when I get in the ring tonight," said Coyne, "I want to let everyone know that I'm here -- that I've arrived."
Round one:
Coyne, looking tentative, got himself in the ropes. Flamos looked greedy. Trainer
John Bray
knew something bad was coming..."You guys are both falling in," he warned Coyne. "You're gonna get a fuckin' headbutt."
Round two:
"Oh, you
mother
fucker!" Bray blurted when Flamos nailed Coyne on his
healing eye
. (Bray always seems to be dropping F-bombs in Coyne's company.) Loved Flamos's body-punching in this round. Dude was all cave-man.
Round three:
"Box your ass off!" Bray told Coyne. "Come on, you gonna listen?" Coyne turned it up a notch, landing a couple nice throws, including a solid left hook to Flamos's mouth. Yellow trainer
Tommy Brooks
predicted his boy Flamos was behind after this one.
Round four:
Must say, neither of these guys has looked exceptional throughout the fight, but they were definitely evenly matched. This round was clooooose.
Round five:
Wow. Blue team looked damn concerned here. Yellow team went nuts for Flamos...sure he had it locked up...seemed like the crowd did, too. What I saw: two tired bastards looking like they couldn't wait for the brawling to end.
And, in a
split decision
-- 49-46; 48-47; 48-47 -- your winner is...
...the
Irish outlaw
, Ryan Coyne!
I should have known.
Back when Ryan and I
first talked
about his appearance on the show, he dished up some high praise for Flamos, saying the guy was awful tough for 41 years old.
Last week's show ended without Coyne getting to talk any smack about his victory, but I have a feeling we'll be seeing a lot more of him on
tonight's episode
(9 p.m., on
Versus
) and in the weeks to come.
In a recent e-mail to me he mentioned that he's arrived in Las Vegas to train for a big, big fight. Hmm...
Note to Ryan: like the 5 o'clock shadow!