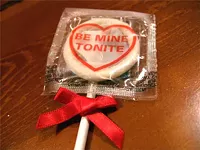 You probably don't want to give this gift to that special someone after your first date. But then again, who knows? Nothing breaks that pre-coitus awkwardness better than a properly timed box of condoms.
This Valentine's Day
Planned Parenthood of St. Louis
is encouraging lovers to eschew the traditional bouquet of roses for a gift basket of prophylactics. For a $25 donation to Planned Parenthood, the organization will send your special friend four packages of
Proper Attire
condoms, some chocolate and a hand-written note letting the person know he (or she) is in your thoughts -- your dirty, dirty thoughts.
At $25 a pop the offer might appeal to cheapskates as well as Lotharios. Come V-Day you'll be hard-pressed to find a dozen roses for any where near that price.