Sgt. Jen Dipley, of Festus and of the Missouri Army National Guard, shipped out to
Jalalabad, Afghanistan
, five weeks ago, not to hunt for terrorists or WMD but to help the Afghans develop their own sustainable agriculture system.
That means stuff they can eat, not stuff we can smoke.
Dipley, who is 29, joined the national guard in 2002 after her graduation from Kentucky's
Murray State University
. This is her second deployment. Her first was to Iraq in 2005 and 2006, where she served as a unit administrator with a horizontal engineer company. She expects her time in Afghanistan to be very different.
In her civilian life, Dipley trained as a large-animal veterinarian. Now she's part of one of the Army's newly formed
Agribusiness Development Teams
. "My job," she explains (via a very temperamental phone connection) "is to go and talk to government leaders and find out their needs, specifically their veterinary needs, and help them get clinics and equipment. This is more like a humanitarian mission. I have a hand in what goes on, to bring peace to the country."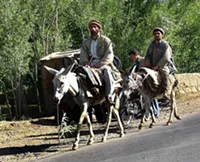 Most Afghan villages are severely underequipped with maybe one tractor shared by everyone. "Many farmers still use a plow with cattle or oxen or little donkeys," Dipley says. She estimates the Afghans' level of technology approximates that of the U.S. in the nineteenth century.
"They're never going to get to where we are, but that's OK," she says. "We want to give them new knowledge. We can't go in there with a new combine. They don't know how to use and maintain and sustain it. We use what we expect to work and be sustainable."
In Afghanistan, Dipley has mostly seen cattle, goats and sheep. These don't differ much from the ones back home except that they tend to be smaller. Dipley attributes this to poor nutrition.
Jalalabad sits in a mountain valley about 65 miles east of Kabul. "It's a very good environment for growing things," Dipley says, "one of the best places in Afghanistan to grow crops." Since Dipley arrived, the weather has been around 60 degrees and mostly sunny, with just enough rain to saturate the ground.
If all goes well, Dipley will remain in Afghanistan until November. So far, she hasn't encountered much violence, though she says soldiers have to keep on the lookout. She also hasn't encountered much sexism on the part of the locals.
"The biggest thing, as a woman in the Army, was that we were told, 'People won't talk to you or listen to you or acknowledge your presence,'" she says. "But I've found the opposite. Men have shaken my hand and smiled and said they're glad to meet me and appreciate what I know."
She continues: "They want to sustain their families and their way of life. They want to feed their families and live their lives and grow their own crops and sell them and make a profit. Corn and wheat, I mean. Not poppies."