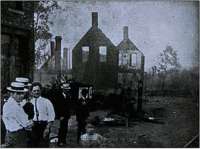 The
Wall Street Journal
ran a
fascinating Inauguration Day story
yesterday on Springfield, Illinois.
It was in the Illinois capital -- just 90 miles northeast of St. Louis -- that Barack Obama launched his presidential campaign in February 2007. It was also in Springfield that Abraham Lincoln delivered his speech proclaiming that "a house divided cannot stand."
Yet despite its ties to these two civil-rights pioneers, Springfield itself has a rather checkered past in race relations. In August 1908 a bitter race war broke out in the Illinois capital after the arrest of two black men -- one for the murder of a white man and another for allegedly raping a white woman. (The rape allegation was later disproved.)
The mob ended up lynching two black men not associated with the alleged crimes that launched the riot. Decades later Springfield remained a thoroughly segregated city with the race riot of 1908 rarely acknowledged or discussed.
Last year with the nation focused on Obama -- and to a lesser degree, Springfield -- the city owned up to the riot of a century ago. The mayor issued a formal apology. Next month a $300,000 statute honoring the dead and destruction the race riot wll be unveiled.
Below, is a Wall Street Journal video of the story.