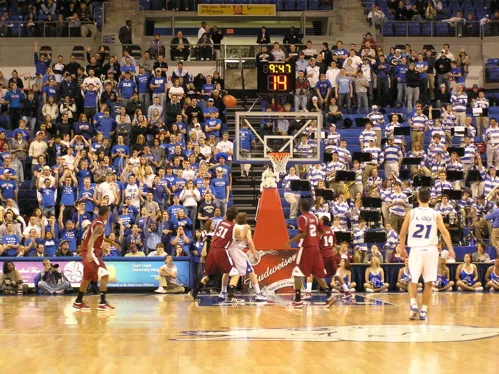 There's been much ado in the land of SLU about the youth of the Billikens. When the season started, there were seven true freshmen on the roster and, thus far, freshman have played about half of the team's minutes. With an average player age of just older than 19 years old, they are the fourth youngest team in the country.
No one likes to point out this fact more than head coach
Rick Majerus
, who blames his squad's inexperience on just about everything that goes wrong.
Poor defense? Freshmen don't understand the effort they have to put out. Bad shooting night? Freshmen need to learn the offense. The breakfast buffet ran out of bacon? Those freshmen sure do have an appetite.
If last night's
gritty 69-64 win
over UMass taught us anything about the 2009 team, it's that they're not as inexperienced as the hefty head coach would have you believe. The game was won in large part because of the effort of sophomore
Paul Eckerle
, who finished tied for a game-high fourteen points, including going 4-4 on three-pointers.
Until last night, Eckerle, who has always been a good outside shooter and effort defender, was averaging just twelve minutes per game.
Maybe if coach wants his team to play like veterans, he should, um, play his veterans.
That includes senior Barry Eberhardt, who had some clutch rebounds last night and has the strength required to battle the other team's bigs that freshmen Brian Conklin, Brett Thompson and Willie Reed simply don't possess yet. Until that trio is able to grow facial hair, Majerus ought to consider playing the guys who give the team a chance to win while they still have Kevin Lisch and Tommie Liddell, two of the better players in SLU history.
Asked about giving more PT to the team's elders after the game, Majerus had this gem: "They're all freshmen and sophomores to me."
Please.
I understand Majerus often has no choice, half of his players are rookies and he obviously wants to get them some seasoning so they'll be competitive in years to come. But the fact remains: SLU has two experienced players that, until last night, have been completely under-utilized. There's no excuse for that.
Okay. That's enough. With all this bitching, you'd think SLU lost last night. Let's enlist some handy bullet points to slather some praise on the Bills' for notching their first conference victory.
- Liddell absolutely lit it up in the second half, finishing the game with fourteen points and bouncing back from a first half in which he shot just 1-7 from the field. That shows maturity -- the old T-III would have hung his head and sulked for the rest of the game. Instead, he attacked the rim and shut down Umass point guard Chris Lowe on D.
- Kwamain Mitchell is going to be really good. He proved last night he can shoot the ball a little bit, and he has a knack for finding the open man with seemingly easy no-look passes. He finished with six assists and zero turnovers. Did you know he was the High School Player of the Year in Wisconsin last year? After the game, Majerus compared him to his protege at Utah, Philadelphia 76ers point guard
Andre Miller
saying, "Andre, to this day, can't shoot as good as Kwamain can."
- Everyone loves Willie Reed, and for good reason: He has the wingspan of a 747 (see picture) and he always gets his hands on loose balls in the paint. I mean that in the least dirty way possible. His nickname, though, is "Big Willie Style." That is entirely too 1996. I demand that the SLU student section come up with something better.
- Lisch went 3-13 from the field last night. SLU would have been better off with
his sister
out there. She's the A-10's leading scorer on the women's side, averaging 19.6 points per game.
- I'll give Majerus credit for one thing, he doesn't mess around when it comes to academics. He told the media last night that his team finished with a GPA of over 3.0 last semester, putting them near the top of Division I academically. He said that average would have been higher if it weren't for a walk-on (anyone out there know who?) that "had a GPA in the negative."

Quoth Majerus of the poor kid: "Believe me, I will physically kick his ass if he doesn't do well in school."
- Finally, maybe it's karmic payback for all the
hard-hitting reporting
about the SLU cheer squad that appeared on the Rundown last month, but this was what my court-side view was like for half of the game from the overflow media seating under the basket at the east end of Chaifetz: