In a move that's sure to cost
Hallmark
tens of dollars, members of the
Ku Klux Klan
are asking white Americans to boycott all purchases from the greeting card company.
A press release yesterday from the Belleville, Illinois, chapter of the KKK, states that Hallmark is "trying to corrupt the morality of Americans by offering
gay/lesbian wedding and greeting cards.
"
"This is sickening beyond belief...We white Americans are to BOYCOTT Hallmark cards until they take the cards off the shelf."

Okee dokee. But tell me, are Klansmen really in the habit of sending
any
greeting cards, straight or otherwise?
Read the full KKK press release after the jump.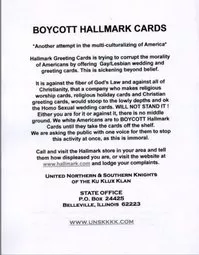 Click the image for a larger version in new window.