Great
obit in the Monday New York Times about Philip Egan
, the man who designed the ultra-cool interior of the ultra-cool, nearly mythical Tucker, the "Car of Tomorrow" that (almost) never was.
Preston Tucker, who died in 1956, was immortalized in Francis Ford Coppola's 1988 biopic
Tucker: The Man and His Dream
. Though Coppola's movie (which starred Jeff Bridges) included role for the car's chief architect, Alex S. Tremulis, there was no character for Egan.
The car itself was a marvel of its time, with futuristic safety features like disc brakes and a windshield that popped out on impact, and a minimalist-chic interior (designed by Egan). Only 51 Tuckers were manufactured in 1948 before the company went belly-up amid a criminal fraud prosecution that painted Preston Tucker as a fraud. (He was exonerated, but too late.) According to
Times
woman Margalit Fox's obit, only 47 remain.
Per the website of the
Tucker Automobile Club of America
, the surviving Tucker closest to St. Louis is on exhibit in La Porte, Indiana, outside Chicago.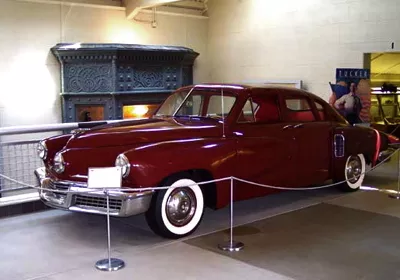 The website of the
La Porte County Historical Society
indicates that the car, purchased by a collector named Peter C. Kesling, is Tucker No. 12, and appeared in Coppola's film.
Can you say "road trip"?