In a speech to the Missouri General Assembly this morning, Senator Christopher "Kit" Bond announced that he won't seek a fifth term in office in 2010.
"In 1972, I became Missouri's youngest Governor. Ladies and Gentlemen, I do not aspire to become Missouri's oldest Senator," said Bond.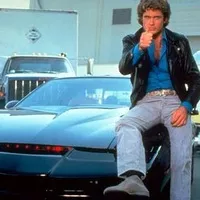 The
69-year-old Republican
served two terms as Missouri's governor before being elected to the Senate in 1986. Bond has not indicated how he'll spend his retirement, but
sources tell Riverfront Times
that the senator has not ruled out a return to acting.
In the photo to the right, Bond -- aka "KITT" (Knight Industries Two Thousand) -- appears next to actor
David Hasselhoff
on the popular 1980s show
Knight Rider
.
-- Unreal