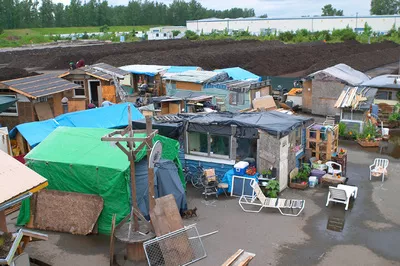 Fresh off a
protest march on City Hall this morning
, a group of advocates for the homeless say they plan to circulate a petition asking that St. Louis City cede land for use as a permanent camp for the indigent.
Brian Ireland
, a case worker at
New Life Evangelistic Center
, says the one-acre tract would be similar to
Dignity Village
in Portland, Oregon. That homeless enclave (pictured above) has been in operation since 2000 and consists of tents, wooden shacks and tee-pees.
Like Dignity Village, Ireland says the camp he and others propose for St. Louis would stress communal living and shared resources. Violence, drugs, alcohol and theft would not be tolerated.
Ireland did not know how many signatures it would take to get the issue on the ballot or when city residents might expect to vote on the matter.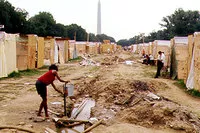 "Right now we're just starting to get the word out," says Ireland, who compares the initiative to the
Poor People's Campaign
of 1968 when hundreds of protesters built a shantytown on the National Mall in Washington D.C. "We're looking for progressive people and churches to get involved and demand that the city address the grievances of the homeless."
Ireland adds that New Life director, the
Rev. Larry Rice
, visited Dignity Village a few years back and was impressed with the sense of empowerment the camp gave its homeless residents.
-- Chad Garrison