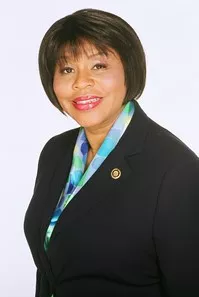 Update: As if St. Louis politics couldn't get any stranger...late this afternoon Maida Coleman held a press conference to announce that she would not be filing for candidacy in the Democratic primary.
Coleman's decision followed news that another African-American candidate with the same last name, Denise Watson-Wesley Coleman, also filed to run for mayor on Friday afternoon. In a press conference, Maida Coleman suggested that Mayor Francis Slay prompted Denise Coleman to run for mayor so as to split the African-American vote. Slay's administration and Denise Coleman, strongly deny those charges.
Maida Coleman said she now plans to file as an Independent mayoral candidate in the March 3 primary.
The original blog post follows...
State Sen. Maida Coleman (right) plans to file her candidacy today for the March 3 primary for mayor.
Coleman cites a crisis of confidence, crime, and education as the catalysts for her decision to run.
"Under the current administration, St. Louis has been named the most dangerous city in the U.S., St. Louis Public Schools have been taken over by the state, jobs are disappearing in droves and the city has become more polarized than ever," said Coleman in a press release.
Coleman joins incumbent mayor Francis Slay and former Alderwoman Irene Smith (perhaps best known for allegedly peeing in a trash can a few years back) as the only Democratic candidates to formally file for mayor. The deadline is today.
Coleman may be Slay's most experienced and formidable challenger, but it's unlikely any candidate will match the incumbent's war chest. In its most recent quarterly filing, Slay's re-election campaign reported it already had raised $1.6 million.
-- Chad Garrison